Tour Virtual 360º
Large coaches, ideal for larger groups. With a spacious luggage compartment.
Features:
Wi-Fi, heating and air conditioning, seat belts, DVD and CD players, TV screens, reclining seats, refrigerator, microphone and optional GPS.
Safety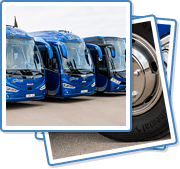 Safety is one of the pillars of Autocorb's philosophy. We have established an advanced maintenance plan for all vehicles to guarantee maximum safety for both our users and drivers. Our in-house mechanics service our coaches periodically to anticipate and preempt any possible problems whilst in service. In addition, all our vehicles are equipped with safety elements surpassing established regulations.

Comfort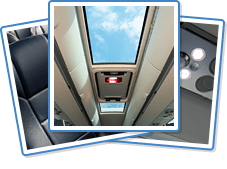 All our vehicles come equipped with all amenities and feature comfort elements including climate control system, Internet connection, TV screens and comfortable reclining seats. Our drivers receive training in safe and efficient driving to guarantee maximum safety and comfort for our clients.