Free Wi-Fi on board
24-hour helpline
Punctuality guaranteed
No middlemen
Presenting our bus fleet and our staff. We are proud to offer individual attention and a reliable, safe and quality service. Over the past 90 years we have provided all kinds of bus hire services in Barcelona and its outskirts.
---
Bus Hire for Individuals and groups
Autocorb offers a wide range of services of bus and minibus hire in Barcelona and its outskirts: charter buses, airport and hotel transfers, day trips for groups, weddings, bus trips and sporting events. Whether you need a large coach or a minibus, contact us and we will provide you with a budget tailored to your needs. Also called 'charter buses'.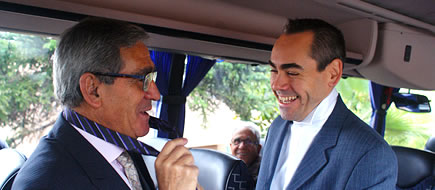 Buses for Travel agencies and tour operators
Travel agencies and tour operators will find a multilingual team of professionals with extensive experience managing large passenger transport operations at their disposal at Autocorb.
We operate across the Barcelona area and offer local, national and international routes. The proximity of our operating base to Barcelona, its airport and its port allows us to offer competitive prices and flexibility. We offer a service available 24 hours a day, 365 days a year.
We also place at your disposal a team of experienced official tour guides, as well as a port and airport passenger pick-up service.
The main services that we offer to travel agencies and tour operators are: airport, cruise, hotel and conference transfers, sightseeing tours in Barcelona and local, national or international coach trips.
Rent a Bus for Companies and institutions
Autocorb is a trusted operator of passenger transport by road. We work regularly with companies, universities and local government departments.
We operate across the Barcelona area and offer local, national and international routes. We are known for our professionalism and reliability, which is why we guarantee punctuality in our services by offering compensation if necessary.
Our fleet of vehicles ranges from minibuses to 68 seater buses. Our drivers are friendly and professional.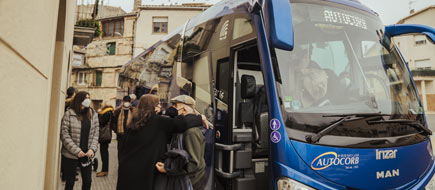 Coach hire for Clubs and associations
We place our coach fleet at your disposal for your journey. We offer all kinds of services: national and international journeys, coach trips, sporting events and sightseeing and cultural tours.
We work regularly with all kinds of clubs and associations: cultural associations, sport clubs, youth clubs, groups of "castellers", rambling clubs and community centres.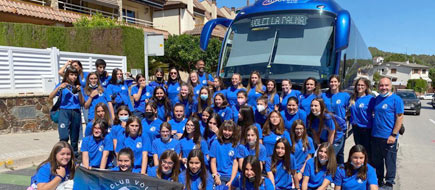 Bus rental for School services
Autocorb is a trusted operator of school transport. Our extensive experience enables us to accommodate the individual needs of each school. We offer special rates on bus rental for regular school routes, day trips and bus trips to swimming pools, museums or holiday camps.
At Autocorb you will receive individualised and professional attention. Our staff will study your requirements in detail in order to offer you a service that perfectly fulfils your needs.